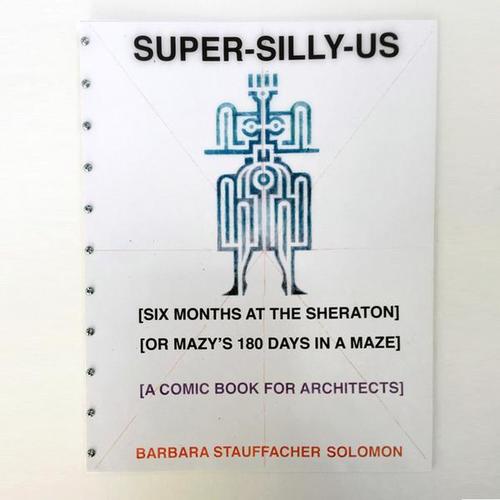 SUPER-SILLY-US - Barbara Stauffacher Solomon
Regular price $100.00 Sale
[SIX MONTHS AT THE SHERATON]
{OR MAZY CAUGHT IN THE MAZE}
By Barbara Stauffacher Solomon
Published by Fun Fog Press
**Out of Print**
Barbara Stauffacher Solomon's last book made by hand in her San Franciscan studio. The book's form is similar to that of her UTOPIA MYOPIA, wherein lines of images play with lines of words & each drawing is a one page play with scenery & 5 acts of dialogue.
Architects & landscape architects will enjoy seeing the layout of the garden maze ground plan high rising vertically, one story over another, casting an amazed Mazy, maiden & maid, into playing the games that she plays.
Barbara Stauffacher Solomon is a San Francisco-based artist, graphic and landscape designer, and writer. Born in 1928, Solomon first worked as a dancer before studying painting and sculpture at the San Francisco Art Institute. After the death of her husband in 1956, Solomon moved to Basel, Switzerland to study graphic design at the Basel Art Institute with Armin Hoffman. She later studied Architecture at the University of California, Berkeley. 
Best known for her interior Supergraphics of the 1960s Sea Ranch and her 1991 Ribbon of Light installation at the Embarcadero Promenade in San Francisco, her iconic style of mixing Swiss Modernism and West Coast Pop, pioneered the look of the California Cool - an important moment in graphic design history.
Her works have been exhibited in galleries around the world from Paris to New York, and is currently on permanent exhibition at SFMOMA. Now in her 90s and still working on her craft, Barbara has turned her attention to a smaller canvas, creating pieces that tell not just one story, but many, and make a single page dance well beyond its borders.